If there was a Pullman car rake really defining the mid-20th century, then it was the new Festival of Britain Golden Arrow set. Coming in standard umber and cream livery, the famous Golden Arrow set is a first in RTR fine scale O gauge modelling bringing a touch of glamour to railway tracks. The 1951 Golden Arrow comprises ten new vehicles built specifically for the service, as well as the conversion of Pegasus as The Trianon Bar car.
The new U-type Pullman cars were straight, slab-sided in appearance (the last to be built in this fashion), timber-framed and steel-panelled in construction adhering to a pre-war livery and tradition but incorporating a much more modern and up-to-date style. The tidying process ensured carriage lavatory and pantry windows were reshaped to a rectangular design to afford greater natural light. The net result, a new image bringing traditional notions of British art, craftmanship and enterprise to the fore. The U-type Pullman cars were technologically perfect for a new Elizabethan Age encapsulating both steam and electric traction.
As they were designed for one of the country's premier trains, the Pullman cars came with semi-permanent carriage boards combining a revised Golden Arrow and Flèche d'Or insignia, slotting into place on the umber-coloured waistband whenever the Pullman cars were on continental boat train duties. Combining that classic Pullman look and feel, these Shamrock Finescale sets are accompanied with LNER type heavy-duty double bolstered bogies designed to ensure smooth running and to maintain good time keeping on the Dover Straits route.
Pullman car specifications:
Meticulously researched using original drawings, image material and examples of preserved and modified stock
Beautiful hand-made solid brass fine scale soldered construction ensuring superb body detail
Interior LED lighting provided by lit Pullman table lamps
Finished in long-lasting and robust oven baked satin paint
Coach nameboards commemorating famous expresses
LNER heavy-duty style bogies
Ball bearing mounted axel boxes for free running
Solid stainless steel disc wheels with back-to-back set at 29mm
Conversion pack for standard/coarse scale Hi Rail wheels set at 27.5mm
Three coupling types: Pullman cars come with standard Kadee style couplings. Conversion packs for screw link drop or alternative buckeye couplings are available. Note the screw link drop coupling is suitable to align with ACE style drop link couplings
Removable carriage bodies for the fitting of figures
Removable Golden Arrow side panels for operation on other Pullman services
Golden Arrow first-class kitchen cars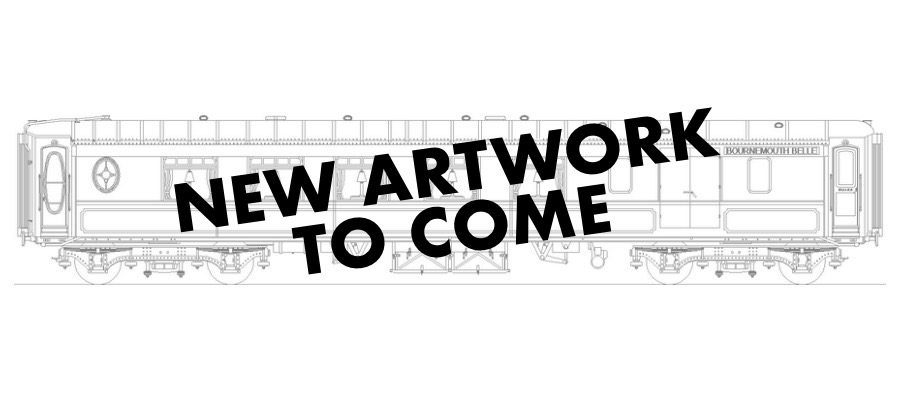 The new kitchen cars provided accommodation for 22 passengers in a higher density first-class specification format which included double-glazed Pilkington window profiles and newly designed seating and ventilation.
The price for individual Pullman kitchen cars is £650.00. When ordering a second or subsequent Pullman car the price is reduced to £625.00 each.
The production run will be limited to approximately 90 Pullman kitchen cars
Pullman first-class kitchen cars.
Kitchen car Aquila
Kitchen car Carina
Kitchen car Orion