New 0 Gauge Pullman cars will be offered in three main livery styles:
Pre-1929 umber and ivory white waist band to cantrail/roofline
Post-1929 standard umber and cream colours
BR modern era standard umber and cream with simplified line livery.
The introduction of umber and ivory white waist band Pullman colours will be a first in O gauge RTR models, incorporating a combination of wood-sided (including 12 wheelers) and K type all-steel cars. In the 1930s many Pullman trains invariably ran with both the earlier and the new standard liveries. The first batch of new Pullman cars will be brake parlour vehicles recognising a gap in the market not previously fulfilled. We are most grateful for the advice of Dr Antony Ford, Pullman Society Curator and Archivist who has assisted with development.
Pullman car specifications:
Meticulously researched using original drawings, image material and examples of preserved and modified stock
Beautiful hand-made solid brass fine scale soldered construction ensuring superb body detail
Interior LED lighting provided by lit Pullman table lamps
Finished in long-lasting and robust oven baked satin paint
Coach nameboards commemorating famous expresses
Ball bearing mounted axel boxes for free running bogies
Solid stainless steel disc wheels with back-to-back set at 29mm
Conversion pack for standard/coarse scale Hi Rail wheels set at 27.5mm
Three coupling types: Pullman cars come with standard Kadee style couplings. Conversion packs for screw link drop or alternative buckeye couplings are available. Note the screw link drop coupling is suitable to align with ACE style drop link couplings
Removeable carriage body for the fitting of figures.
Pullman Brakes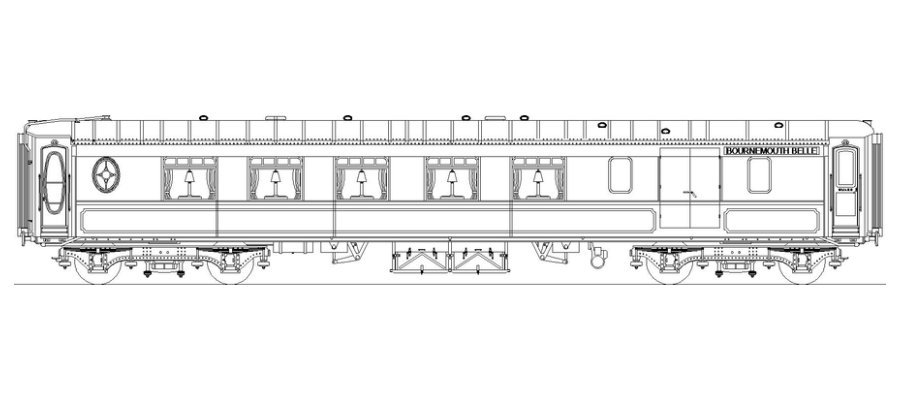 In 1928 six new steel-sided third-class Pullman K-Type kitchen cars nos. 67-72 were introduced to the long-distance Queen of Scots' service. At the end of the 1950s, they were converted into parlour brake cars. Reproduced in umber and cream livery to complement the later BR era, these renewed parlour brakes are different to the original set of four brake cars nos. 77-80 built for Queen of Scots' running. The differences include revised roof layout at luggage end, smaller drop windows on either side of the guard's luggage area, no roof brackets as carriage boards moved to the cantrail at brake car ends, removal of the third-class designation, and the adoption of simplified lining and updated Pullman crest and insignia.
Typically, the parlour brakes ran top and tail with a new set of 44 Pullman cars built by Metropolitan-Cammell Carriage & Wagon Company in 1960. Aside the main East Coast Pullmans such as Queen of Scots, Tees-Tyne Pullman and Yorkshire Pullman, new named express services appeared including White Rose Pullman, Sheffield Pullman, and The Harrogate Sunday Pullman. The converted brake sets lasted until the demise of the old life expired Pullman stock providing innovative and highly attractive models and express train formations of a more modern provenance. The new 1960 Metro-Camm Pullman cars, designed around Mk1 carriage technology, will be a later Shamrock Finescale project, and another first to fine scale RTR O gauge modelling.
On delivery customers may choose between either a named train roof board or carriage side board. These are supplied in umber and cream. If customers wish to obtain further Pullman named train or car end boards, they can be purchased via our carriage sundries page. Current named train boards suitable for Pullman cars are as follows:
Pullman car destination boards
East Coast Main Line
Queen of Scots
White Rose Pullman
Sheffield Pullman
Tees-Tyne Pullman
Yorkshire Pullman
The Harrogate Sunday Pullman
Southern Region
| | |
| --- | --- |
| Bournemouth Belle | |
| Ocean Liner Express | Waterloo Southampton Docks |
| The Cunarder | RMS Queen Mary |
| The Cunarder | RMS Queen Elizabeth |
| Statesman | SS United States |
| The South American | Waterloo Southampton Docks |
| Brittany Express | Waterloo Southampton Docks |
| Normandy Express | Waterloo Southampton Docks |
Pullman car end board
Queen of Scots
Yorkshire Pullman
Bournemouth Belle
The price for the Pullman parlour brake car is £625.00. As most of these Pullman car sets ran as pairs a second companion car may be purchased to run top and tail. When ordering as a pair a discount of £50.00 will apply.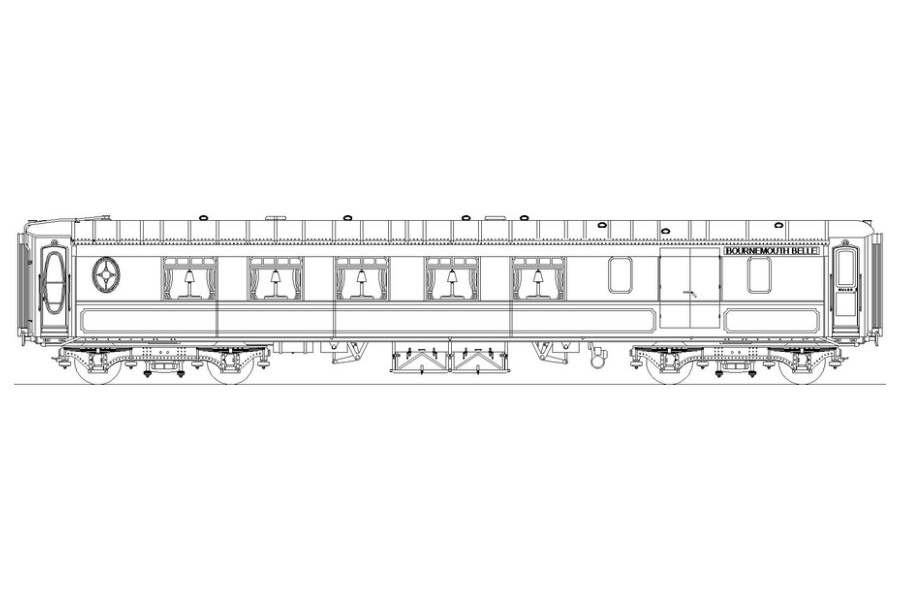 Pullman Brake Car – Post 1959
BR modern era (Post-1959) standard umber and cream with simplified line livery.
Price: £625.00