Straddling the Southern Railway and British Railways eras, Bulleid coaching stock provided a most distinctive post-war steam and later with diesel/electric hauled image. Two, three, four, five and six-car carriage sets – in fixed formations designed to minimise maintenance – were introduced to the most prestigious Southern expresses namely to Southampton, Bournemouth, and Weymouth and to Exeter and the West Country. Together with individual stock for loose working, they provided passengers in the post-war austerity laden years with modern, up-to-date, and comfortable train travel.
One of the defining characteristics of the so-called Bournemouth six carriage sets was an extended skirt where the carriage side body continued down over the solebars. This was a particular feature of sets – nos: 290-300 – which helped define the sleek lines of modern services to one of the country's favourite holiday resorts. Yet Bulleid stock could be found across the Southern network, as well as much further afield. And perhaps indicative of just how highly the carriages were valued by Southern Region railway management. Aside premier trains, different three-carriage sets were included on many cross-country, regional and local trains across the south and southwest of England. They remained on first line duty until well into the 1960s.
Our new Bulleid coaching stock will be offered covering four main livery styles:
Southern Railway era (light malachite green)
BR blood and custard
BR Southern Region green (dark malachite green)
BR maroon (carriages transferred to Eastern, North Eastern and Scottish regions).
Bulleid Coach Specifications:
Meticulously researched using original drawings, image material and examples of preserved and modified stock
Beautiful hand-made solid brass fine scale soldered construction ensuring superb body detail
Switchable interior LED lighting
Working LED taillight on brake carriages (with on/off switch)
Finished in long-lasting and robust oven baked satin paint
Coach nameboards commemorating famous expresses
Ball bearing mounted axel boxes for free running bogies
Solid stainless steel disc wheels with back-to-back set at 29mm
Conversion pack for standard/coarse scale Hi Rail wheels set at 27.5mm
Three coupling types: Bulleid carriages come with standard Kadee style couplings. Conversion packs for screw link drop or alternative buckeye couplings are available. Note the screw link drop coupling is suitable to align with ACE style drop link couplings
Removeable bodies for the fitting of figures.
On delivery customers may choose between either a named train roof board or a carriage side destination board. These are supplied in green and maroon. If customers wish to obtain further named train and/or destination boards, they can be purchased via our carriage sundries page. Current named train and destination boards suitable for Bulleid carriage stock are as follows:
Bulleid express train carriage roof boards
| | |
| --- | --- |
| Waterloo Southampton Central | Bournemouth |
| Waterloo Southampton Central | Bournemouth West |
| Ocean Liner Express Waterloo | Southampton Docks |
| The Royal Wessex Waterloo | Bournemouth West |
| The Royal Wessex Waterloo | Swanage |
| The Royal Wessex Waterloo | Weymouth |
Bulleid carriage side destination boards
| | |
| --- | --- |
| Atlantic Coast Express | Waterloo Seaton |
| Atlantic Coast Express | Waterloo Sidmouth |
| Atlantic Coast Express | Waterloo Exmouth |
| Atlantic Coast Express | Waterloo Plymouth |
| Atlantic Coast Express | Waterloo Torrington |
| Atlantic Coast Express | Waterloo Ilfracombe |
| Atlantic Coast Express | Waterloo Bude |
| Atlantic Coast Express | Waterloo Padstow |
| | |
| --- | --- |
| Bournemouth | Weymouth |
| Weymouth | Bournemouth |
| Bournemouth | Swanage |
| Swanage | Bournemouth |
| Salisbury | Exeter Central |
| Exeter Central | Salisbury |
| Salisbury | Portsmouth |
| Portsmouth | Salisbury |
Bulleid three-coach sets no: 770-793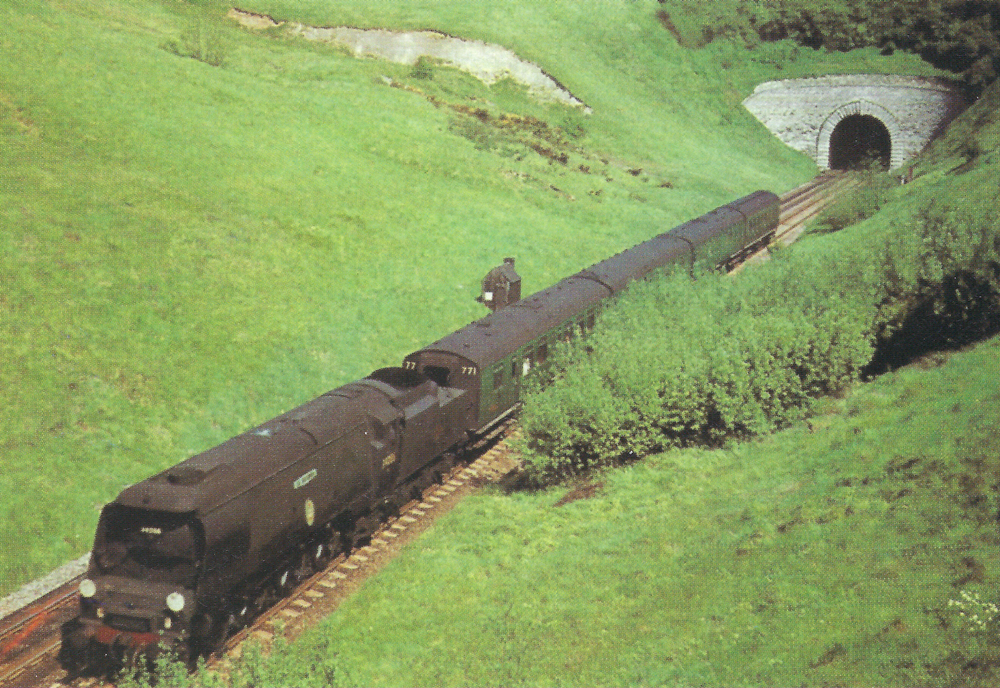 Sets no: 770-793 were built between December 1946 and November 1947 made up of 24 specific sets of three-coach trains comprising two semi-open brake thirds and a composite corridor. They remained in green livery throughout their working lives, initially in light malachite green, and then later appearing in dark malachite (BR green) when they came in for routine maintenance and sprucing up, In BR's blood and custard days, it was quite usual to find both sets of liveries attached to mainline expresses. Sets no: 770-793 provided accommodation for 24 first-class and 120 third-class passengers.
Many sets were destined for the west of England line accommodating war-weary visitors on trains heading to Devon and north Cornwall's tourist meccas, and thus becoming a defining fixture of the multi-portioned Atlantic Coast Express (ACE). Destinations – typically Seaton, Sidmouth, Exmouth, Plymouth, Torrington, Ilfracombe, Bude and Padstow – were lastingly linked to the ACE and serviced by connecting trains of Bulleid stock; such places were added to the rail travel lexicon. In addition, many of the three-coach sets serving rural and coastal communities would be identified by their respective carriage side boards that were 2ft long and 6" deep and printed in BR maroon or green.
Brakes were the most numerous of the Bulleid carriage categories – over 200 of them were either constructed in various forms for fixed sets or for loose working. Most brakes either in semi-open or composite forms operated as permanent sets. However, by the mid-1950s as the numbers of BR Mk 1 stock increased, many Bulleid built brakes could be found in loose working appearing all over Southern metals often in mid-carriage formations alongside other Bulleid, Maunsell and Mk1 stock. The Bulleid three-coach sets no: 770-793 have the smaller 10¼ inch vent windows based on diagram 2123.
The price for individual Bulleid carriages is £625.00. However, when ordering a set, the price of each coach is reduced to £600.00.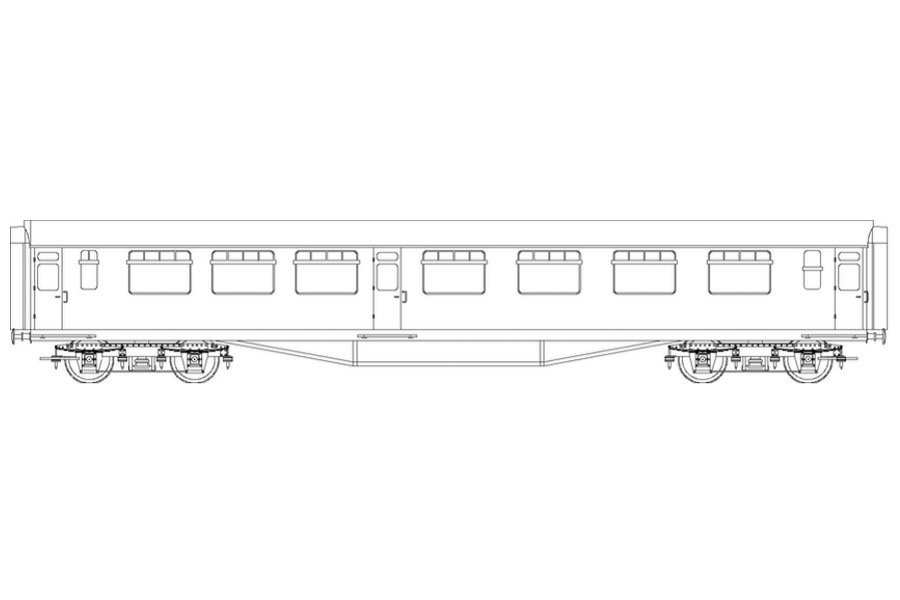 Bulleid Coaches
Dark Malachite Green (BR Southern Region) Livery
This production run will be limited to approximately 60 Bulleid three-coach sets.
Prices: £625.00 – £1,800.00